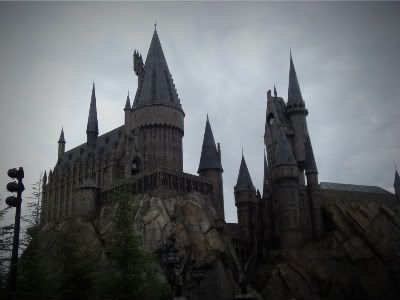 So I am officially back from my Wizarding World adventure. Actually, I was back on Wednesday, but between getting back to work, unpacking, and trying to find a place for all my new commemorative Butterbeer mugs, it's been one crazy week.
But guys. Seriously.
Seriously
. If you are a Harry Potter fan at all, save up and go. This is hands down the best park at Universal Studios. It probably beats most at Disney too. Guys, I almost
cried
when I saw Hogwarts. The only reason I didn't was because of all the people, and because I didn't want to look like
that
much of a Harry Potter nutjob in front of our friends. I didn't want to leave. I wanted to volunteer to just stay and work. For free. Heck, I'd bunk in an alley and eat Three Broomsticks scraps if they'd let me. Point is, it's beyond beautiful, and I'm going to be saving up to go again, because I don't think I'll ever get enough.
But enough about my unhealthy addiction to all things Harry P. My vacation gave me a spring in my step, and while I did take a day or two off to unwind and maybe neglected the blog just a little, I'm totally ready to hop back on board now. So, here's a little peek at what's coming up:
99 followers while I was away? Holy crap! I never, never expected to be this close to 100 so soon. But I will tell you, I'm preparing something special for when I hit that mark. ;D
I'm having a pretty epic IMM this weekend with two weeks worth of amazing books.
Upcoming reviews for The Replacement by Brenna Yovanoff and The Eternal Ones by Kirsten Miller.
Upcoming "mini" reviews for Beyond the Highland Mist by Karen Marie Moning and Dark Lover by J. R. Ward. These were my guilty travel reads - I enjoyed them though, so I thought I'd group them together for a mini review.
And maybe some other stuff that I can't think of off the top of my head right now. It's late, and I'm tired, so it's bed for me. Happy weekend everyone!