Trying something just a little different. I read two of my "guilty pleasure" over my vacation - an eight hour drive down, then another eight hours back gives you plenty of time to read. But instead of doing full reviews for them, I'm going to group them into "mini-reviews".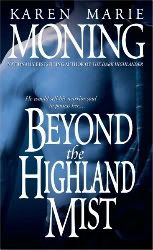 Title:
Beyond the Highland Mist
Author:
Karen Marie Moning
Publisher:
Dell
Category:
Adult Fiction
Page Count:
375
Release Date:
May 2004
Series:
Highlander Series #1
Source:
Library Trade Rack
Challenge:
none
Quick Rating:
3/5
Goodreads
|
Amazon
|
B&N
An alluring laird.

He was known throughout the kingdom as Hawk, legendary predator of the battlefield and the boudoir. No woman could refuse his touch, but no woman ever stirred his heart - until a vengeful fairy tumbled Adrienne de Simone out of modern-day Seattle and into medieval Scotland. Captive in a century not her own, entirely too bold, too outspoken, she was an irresistible challenge to the sixteenth-century rogue. Coerced into a marriage with Hawk, Adrienne vowed to keep him at arm's length - but his sweet seduction played havoc with her resolve.

A prisoner in time.

She has a perfect "no" on her perfect lips for the notorious laird, but Hawk swore she would whisper his name with desire, begging for the passion he longed to ignite within her. Not even the barriers of time and space would keep him from winning her love. Despite her uncertainty about following the promptings of her own passionate heart, Adrienne's reservations were no match for Hawk's determination to keep her by his side…
As a very devoted
Outlander
fan, I could not pass up the opportunity to delve back into the world of the Scottish Highlands. What I was not expecting was to giggle so much. Honestly, I haven't read a romance novel in ages, so I'd forgotten just how many times "raging manhoods" and "swelling bosoms" were mentioned - I had to bury my face a couple of times in a fabulous fit of immaturity.
But, really, I can't resist a good time travel novel. Nor can I resist books full to the brim of muscley warriors either. Adrienne's flat out resistance to Hawk was absolutely frustrating! Just because he's pretty doesn't mean he's a bad man, you silly woman! It only took you two-thirds of the book to figure that out.
I also felt it could have been a little shorter - some of the resistance scenes felt a little redundant, but overall, I actually really liked it. It was quick and entertaining, and was similar to first
Outlander
novel without all the…you know…epicness. I will definitely be getting the next in the series.
Overall:


Cover:

Cover Thoughts:
Um, yes please? I love the shadows and the blue tones, and the lovely torso, but your title is covering him a little too much. Need more abs!
Tea:
Pick your favorite brand of Earl Grey and settle in for a fast, quick read and maybe a giggle or two.
---------------------------------------------------------
Title: Dark Lover
Author: J. R. Ward
Publisher: Signet Eclipse
Category: Adult Fiction
Page Count: 393
Release Date: September 2005
Series: Black Dagger Brotherhood #1
The only purebred vampire left on the planet, Wrath has a score to settle with the slayers who murdered his parents centuries ago. But when one of his most trusted fighters is killed - orphaning a half-breed daughter unaware of her heritage or her fate - Wrath much usher the beautiful female into the world of the undead…

Racked by a restlessness in her body that wasn't there before, Beth Randall is helpless against the dangerously sexy man who comes to her at night with shadows in his eyes. His tales of brotherhood and blood frighten her. But his touch ignites a dawning hunger that threatens to consume them both…
Finally! A romance novel where the two love interests do not constantly resist one another! They may try to, but Wrath and Beth cannot stay away from each other, and it makes for one delightfully steamy book.
I also appreciate in a series of paranormal "romance" novels such an original premise. J. R. Ward took the time to put her own spin on the world of vampires, and it's awesome! I love that vampires aren't truly immortal, that they don't drink from and kill humans, and that the "slayers" are creepy as all get out!
Though it was absolutely full to brimming of steamy scenes and action sequences, I still felt it dragged just a little, but I think this is just a personal problem with romance novels. I'm definitely planning on continuing with the series.
Overall:


Cover:

Cover Thoughts:
Red and shiny and perfect understated. It doesn't scream "romance" or "vampire", and I appreciate that. I also love the leafy detail along the left hand side of the book. Beautiful!
Tea:
Make yourself a nice Long Island Ice Tea - these kinds of books are always more fun with a little mental lubrication!