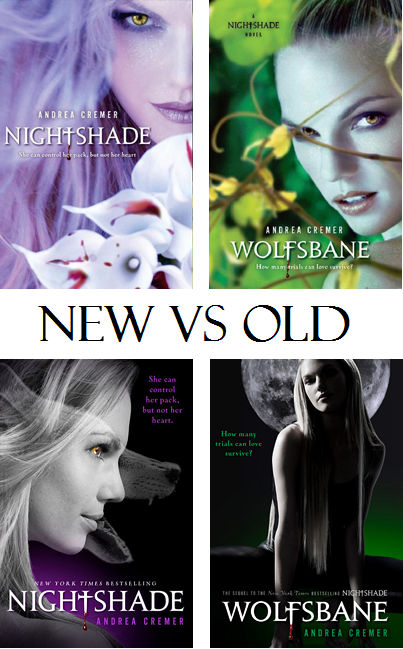 The blogosphere has been in an absolute tizzy about the news surrounding the covers of Nightshade and Wolfsbane by Andrea Cremer - and not all of it is good.
Originally slated to be the covers for the paperback releases, Penguin is now revamping the whole look of the series based on a good response (from who we can only wonder) to the new covers - hardback edition included.
Personally, I'm really bummed about this. The original covers of Nightshade are what drew me in to the series. In a veritable sea of paranormal romance and urban fantasy, in both young adult and adult fiction, they were a bright beacon of light. Colorful, whimsical, alluring, original. They stood out on a shelf like you would not believe.
Now? I'm sad to say, they look just like everything else. They don't stand out. There's nothing original. These are not covers befitting an international best seller. For the paperback edition - yeah, fantastic! I can see where they're going. But to change the hardback too? After such a positive response to the first book? It makes me sadface. They look, to be honest, a little on the cheesy side. Like the kind of series that are all over the place, but that no one really reads.
Regardless of the covers, though, it is all about what's inside that counts. Andrea Cremer is an amazing writer and an amazing person, and I'd buy the book even if they decided to put prancing pigs in tutus on it.
But I'm going out on a limb here and assuming that the original cover for Nightshade is what drew a lot of people in. And now my covers aren't going to match - and my series OCD is bugging out. But there are a lot of other people that are bummed, and while it may do nothing, it can't hurt: a twitition has been started to ask Penguin to change the hardcover back to the original design. So, if you have a twitter account, and you feel as strongly about this as a few of us do, sign it at:
Otherwise, I think someone needs to send me a scan of the ARC cover so I can tape it to my copy of Wolfsbane when I get it.