"Waiting On Wednesday" is a weekly event, hosted by Jill at
Breaking the Spine
, that spotlights upcoming releases that we're eagerly anticipating.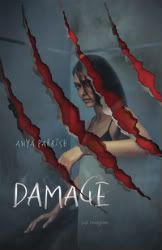 Damage
by Anya Parrish
(September 8th, 2011 -- Flux)
There was a time when I prayed for Rachel to be real. Until the night I learned she'd always planned to kill me.

When Dani was eight, she fell from a building. No one believed her claim that she was pushed by Rachel . . . her imaginary friend. It took years of therapy to convince Dani that Rachel wasn't real.

Now fifteen, Dani wants to make it as a dancer. But a deadly freak accident sends Dani a terrifying message: Rachel is back, she's real, and she'll stop at nothing to kill Dani.

Complicating matters is Jesse, the school bad boy who's being stalked by his own invisible childhood nemesis. Dani and Jesse join forces to learn why their astral tormenters are back. Their investigation leads to a horrifying discovery—and the terrible experiment that binds them to each other.
Creeeeeepy. This sounds like a perfect Halloween read, so I might just have hold off until October to pick a copy up. But, seriously, it sounds amazing. It's like the film Black Swan mixed with Elizabeth Woods's Choker. Even the cover looks sinister - those rips look absolutely vicious. I'm really excited for this one to come out later this year.
What are you waiting on this Wednesday?