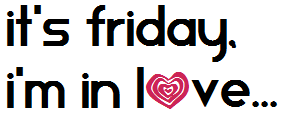 This week, I'm participating in three different Friday memes!
Crazy for Books
hosts the Book Blogger Hop.
Parajunkee's View
hots Folly Friday. And a new Friday question to the block, TGIF at
Greads
! These are all wonderful opportunities for bloggers to get to know each other better.
Today's question from the Hop...
"
If you could physically put yourself into a book or series…which one would it be and why?"
Are you kidding? Harry Potter all the way! I've dreamed of going to Hogwarts since I was eight years old, and I'm still secretly waiting for my acceptance letter. I want my own owl, and a wand, and to be sorted, and make all kinds of wizardy friends. It would be amazing.
Today's question from Follow Friday...
"

Inspired by the inane twitter trend of

#100factsaboutme, give us five BOOK RELATED silly facts about you."
1.) I compulsively redo all my book shelves. Sometimes, I just get frustrated, take them all down, and put them all back up. And I have three huge shelves full. Not an easy task.
2.) Over half the books I own, I haven't read, but I still continue to buy books.
3.) Since I do the majority of the book ordering for my library, I may or may not stick a couple of books in there that I really, really want to read but don't want to buy. Luckily, all my choices have flown off the shelves like hotcakes. Unluckily, I haven't gotten them yet. :(
4.) I'd much rather be reading than doing anything else. If I could quit my job, and just read all the time, I totally would. Lottery, her I come...
5.) I judge books by their covers. All the time. I know it's so bad of me, but I just have a horrible case of constant cover lust. If I could frame some of the covers that come out now and hang them on my wall, I totally would.
Today's question from TGIF...
"Writing Negative Reviews: Are you guilty of it?"
Not really negative, but not really supportive. If it's something like the Luxe series that annoyed the crap out of me, yeah, I'll vent a little. Or if it's like one of the books I finished recently that just...really didn't do it for me, I'm not going to write a glowing review. But while I may post negative things, I will also always post positive. In fact, I even try to do that with books I absolutely adore, because I want to cover the whole spectrum. So while I will never right an outright nasty 'ugh, I hated it!' review, I'm not going to skirt around my true feelings.