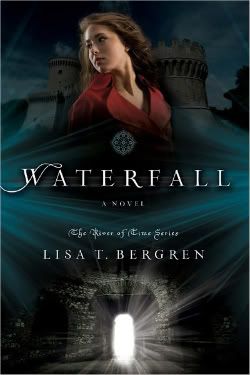 Title:
Waterfall
Author:
Lisa T. Bergren
Publisher:
David C. Cook
Category:
Young Adult
Page Count:
352
Release Date:
February 1, 2011
Series:
n/a
Source:
ARC from publisher
Challenge:
2011 DAC
Quick Rating:
5/5
Goodreads
|
Amazon
|
B&N
What do you do when your knight in shining armor lives, literally, in a different world?

Most American teenagers want a vacation in Italy, but the Bentarrini sisters have spent every summer of their lives with their parents, famed Etruscan scholars, among the romantic hills. Stuck among the rubble of medieval castles in rural Tuscany on yet another hot, dusty archeological site, Gabi and Lia are bored out of their minds…until Gabi places her hand atop a handprint in an ancient tomb and finds herself in sixteenth-century Italy. And worse yet, in the middle of a fierce battle between knights of two opposing forces.

And thus does she come to be rescued by the knight-prince Marcello Falassi, who takes her back to his father's castle - a castle Gabi has seen in ruins in another life. Suddenly Gabi's summer in Italy is much, much more interesting.
I want to start off by saying that I do not usually read anything marketed as "Christian fiction". I'm always turned off by anything preachy, and so, I'll admit, I went into
Waterfall
with a little bit of trepidation.
I was wrong. So wrong.
This book is
amazing
.
But then again, set against the background of medieval Tuscany, how can you not fall in love? Full of mystery, intrigue, action, and a good dose of romance,
Waterfall
was nearly impossible for me to put down. If I hadn't had to work in the morning, I probably would have stayed up all night to finish it.
One thing I loved was the ease of this read. We aren't bogged down with historical facts of ancient Italy, but it isn't skimmed over either. Things like bathroom habits lend a sense of realism to the book, and give you little clues to how hard life was before all our modern-day amenities. Not to mention the absolutely fabulous pacing! Oftentimes, I reach a few slow points in books, making it mildly difficult for me to get through them. This didn't happen
once
. There was always something exciting going on, be it an attack by a band of rogues on the road, a beautiful ball, a medical emergency, or an all out epic battle. It's enough to leave you feeling pleasantly exhausted at the end of the book, but dying for more.
And I have to say, I love Gabi. She's an amazingly un-whiny young adult heroine with a solid head on her shoulders, and a lot of common sense. She's aware of her situation enough to want to try and do the right thing for everyone involved, even if it hurts her in the end. Her romance with Marcello is very sweet as well - it's full of longing looks and forbidden passion, but she doesn't fall absolutely head over heels. She doesn't want marriage, and she doesn't even know if it's love, and I appreciated that. I also appreciated that the romance wasn't the main focus of the book, but rather her quest to find and save her sister, and to get back home. And while things may have seemed a little too easy for her (such as, she had fencing skills, knew the version of Italian spoken at the time, and rock climbing), it certainly made her an interesting and dynamic character. Her developing religiousness was also interesting to watch. She came from modern times with very little thought of religion, to a place where God and Christianity is very much at the forefront of everyone's thoughts. I loved watching her question her beliefs and slowly starting to form her own opinions, wondering if her whole ordeal was some mission from God. Fascinating, and definitely not what I was expecting.
The secondary characters were all solid and intriguing as well. I loved the easy-going, sweet Luca, and the proud but sickly Fortino. I even liked Lady Rossi, and a bit of a spoiler note, I don't blame her for what happened at the end. My suspicions lie elsewhere!
My only complaint would have to be with the dialogue and/or Gabi's inner thoughts. I felt she changed a lot between a more adult voice to a "teen" voice, and it was a little jarring at times. Gabi was such a mature character to begin with, I almost would have rather she kept with the adult voice. The teen voice just felt a little off with her - like it's an adult's view of what teenagers talk like, but isn't really how they talk at all. I got used to it as the story progressed, but it was definitely a little weird at first.
However, that is literally my
only
complaint, and one quickly forgotten. Seriously, the last 100 pages with leave you on the edge of your seat, trying to read as fast as you can to see what happens next. I turned the last page, and my jaw dropped. I absolutely cannot wait for the next installment.
The Final Word:
Do not let the marketing of
Waterfall
as a Christian teen novel steer you away - there is no preachiness to be found, and actually surprisingly few mentions of religion and beliefs. It is an edge-of-your-seat, action-packed time travel novel with an amazing heroine. This is definitely a must-read 2011 debut.
Overall:


Characters:


Concept:


Cover:

Cover Thoughts:
I love all the intricacies of the cover. The castle in the background, the portal at the bottom, the gorgeous teal tones shooting in from the sides. While maybe not eye-catching at first, it definitely fit's the novel. And, surprisingly enough, my favorite part is the tagline typography on the back! The beautiful, subtle clouds are amazing, and the font is perfect!
Tea:
I would recommend
Tadin's Chamomile with Peppermint
tea. Not only are these medieval herbs used in the book itself, but the bite of peppermint will make you think of Gabi's determined and fiery personality.
(Thank you to Lisa Bergren and Karen Stoller of David C. Cook for sending me the ARC!)