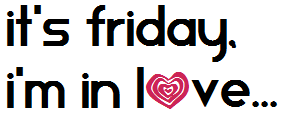 This week, I'm participating in three different Friday memes!
Crazy for Books
hosts the Book Blogger Hop.
Parajunkee's View
hots Folly Friday. And a new Friday question to the block, TGIF at
Greads
! These are all wonderful opportunities for bloggers to get to know each other better.
Today's question from the Hop...
"Do you read only one book at a time, or do you have several going at once?"
I used to be able to do this so easily as a kid! I'd have at least three books going at once, and never forget the plots. Now? Well, sometimes I get previous book's plots mixed up with what I'm currently reading, so keeping up with one book at a time is as task in and of itself.
Today's question from Follow Friday...
"How did you come up with your blog name?"
It was actually a long process. I knew I wanted it to include the word "tea" somehow, since I love tea, and it's my online persona. ;D I had notepads full of different names, and I actually ended up just getting frustrated and picking one. But now, I'm pretty satisfied, though I do have some blog name envy every now and then.
Today's question from TGIF...
"Cover lust: which book covers are you lusting over right now?"
I am a total cover junkie, so this is actually really hard lol! But I'll just pick three randoms off my list. I chose newer books, since it's just too hard for me to pick only a couple from all of my favorite books.