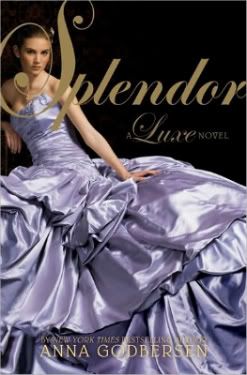 Title:
Splendor
Author:
Anna Godbersen
Publisher:
HarperCollins Publishers
Category:
Young Adult
Page Count:
391
Release Date:
October 2009
Series:
Luxe
,
Rumors
,
Envy
Source:
Library
Challenge:
none
Quick Rating:
2/5
New beginnings.

Shocking revelations.

Unexpected endings.

As spring turns into summer, Elizabeth relishes her new role as a young wife, while her sister, Diana, searched for adventure abroad. But when a surprising clue about their father's death comes to light, the Holland girls wonder at what cost a life of splendor comes.

Carolina Broad, society's newest darling, fans a flame from her past, oblivious to how it might burn her future. Penelope Schoonmaker is finally Manhattan royalty - but when a real prince visits the city, she covets a title that comes with a crown. Her husband, Henry, bravely went to war, only to discover that his father's rule extends well beyond New York's shores and that fighting for love may prove a losing battle.

In this dramatic conclusion to the bestselling Luxe series, New York's most dazzling socialites chase dreams, cling to promises, and tempt fate. As society watches what will become of the city's oldest families and newest fortunes, one question remains: Will its stars fade away or will they shine ever brighter?
Thank God that's over with. I have finally finished the
Luxe
series, and I'm so happy I don't have to suffer through all these characters' depressing lives a second more. I found
Splendor
to be a very weak installment of the series, though not quite as rage-inducing as
Rumors
. It seemed slow, and yet rushed, all at the same time. It was a whole lot of muck to sift through for a very lackluster, unsatisfying ending.
Even the prologue, which I've always found to be one of the best of it's predecessors, wasn't as good. It didn't hook me like the others - I didn't feel compelled to keep reading until I found out all about the cryptic beginning. At least the dresses didn't disappoint.
Follow the jump for more!
As always, Diana is the closest to my heart. If I lived in 1900 New York, I would want her as my BFF. Her confidence is admirable, as is her courage. When she finally stood up to her mother, I was cheering (probably along with Aunt Edith in the background), because I've always disliked their mother. Her reunion with Henry was everything I wanted it to be - sweet, nervous, exciting. I wanted them to bask in the sunlight in Cuba forever. But alas, as always, these two just cannot catch a break no matter what. I was thoroughly disappointed with how their story arch ended, though I do applaud Diana for her remarkable independence and self-reliance. It's a wonderful trait in a character, especially one who exists in the society turmoil of the 1900s.
I loved also seeing some true strength from Elizabeth in this one. However, the blurb led me to believe there was going to be a little murder mystery intrigue, but it was sadly lacking. Diana didn't even know about it! But, whatever. I'm just glad that at least one character ended up mostly happy.
As for Penelope and Carolina - well, what else needs to be said about them? I was relieved to have Penelope drop her Henry-obsession for a while since it was getting a little old. In my opinion, she got what she deserved - to be used and left behind like she did so many others. And Carolina? She deserved everything to, mostly because I just didn't like her. At least she finally let her sister into her wealth, something she should have done so much sooner. But then, when did Lina ever really think about anyone else but herself until the very end?
The Final Word:
One of the most lackluster conclusions to a series I've ever read. I was thoroughly disappointed that I had to wade through all this depression and longing for almost nothing to work out the way it should. It you want a happy ending, read
Luxe
, the first novel, and imagine your own ending. While still beautifully written, it was just too much of a letdown to really enjoy it.
Overall:

Cover:

Concept:

Characters:

Tea:
Indulge in some yummy sweetness after all that bitterness.
Lipton's
Vanilla Caramel Truffle is wonderfully sweet.