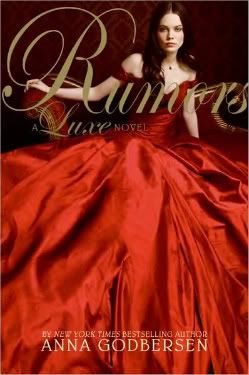 Title:
Rumors
Author:
Anna Godbersen
Publisher:
HarperCollins Publishers
Category:
Young Adult
Page Count:
432
Release Date:
February 2010
Series:
The Luxe
Source:
Library
Quick Rating:
3/5
As rumors fly about the untimely demise of New York's brightest star, Elizabeth Holland, all eyes are on those closest to the dearly departed: her sister, Diana, the family's only hope for redemption; Henry Schoonmaker, the flame Elizabeth never extinguished; Penelope Hayes, poised to claim all that her best friend left behind; even Elizabeth's former maid, Lina Broud, who discovers that while money matters and breeding counts, gossip is the new currency. In this delicious sequel to the New York Times bestselling The Luxe, nothing is more dangerous than a scandal…or more precious than a secret.
So I'm really having a love/hate relationship with this series right now. Maybe it was the lack of sleep and the fact that it was 2 am when I finished it, but as soon as I turned the last page, I had the deepest urge to just rip the book to shreds and throw it in the garbage. But, it's a library copy, so I can't. I cried instead.
But let's start with the positive. Anna Godbersen really knows how to write a prologue that hooks you, but is so vague it's almost maddening. I get sucked right back in, and there's no stopping it. I stay up way later than I should reading these books. The flow is perfect, and it's sososo hard to put them down! Not to mention all the lovely descriptions of all the dresses. I would want to see these made into movies
just
for the costumes.
Follow the jump for more character-specific details!
When I started reading this, I felt like I'd actually missed seeing into all these peoples lives.
Hands down, Diana is my favorite character. She's so sweet and romantic and vivacious it's hard not to like her. When she's rejected, my heart breaks. When she's happy, I'm absolutely elated. Henry with Diana is magical, and I made girly squeaky sounds whenever they interacted. I swear, these books make me act like a ditzy, girly idiot. And on my god, am I jealous of their little romantic scene! Bottle of wine, bearskin rug, and glowing embers in the fireplace? Totes perfection! And Henry is just as sad and charming as before.
Penelope is evil, but in an understandable way. I don't like her, but I know where's she's coming from. She's a very good antagonist.
And Lina. Where do I even begin? In book one I hated her, in book two I loathed her. Her chapters are actually really hard for me to get through, and that's one of the reasons I'm rating this one lower than the first book. I just can't
stand
her! She ruins practically everything. When she falls, she better fall hard. She deserves it. (Can you tell I'm still rage-y right now?)
I don't even want to touch on the subject of Elizabeth. While she's not my absolute favorite, she's a close second, especially when she's with Will. I thought the ending was incredibly unfair, and it's another reason this one rates lower. To me, there was no redeeming factor for anyone. Everyone reaches a peak, and then just plummets. No one ends up happy, except maybe Lina, who I'd like to just punch in the face.
Will I continue with the series, even though I'm so disappointed with how everything turned out in this one? Sure. But book three better have something redeeming in it, or I may just have to quit the series out of frustration.
The Final Word:
Someone should put a warning label on these books that nothing turns out good, and no one ends up happy. I thought the fact that there was no redemption for anyone was annoying - it left the book on such a low note, I almost thought about not continuing. However, it was really good until maybe the last forty pages. Worth a read if you're trying to go through the whole series.
Overall:

Cover:

Concept:

Characters:

Tea:
Honestly, I'd just pick a Long Island Iced Tea. You're gonna need the alcohol after that ending.