This past Friday, I had the luck to make it to the Raleigh, N.C. stop of the Breathless Reads Tour, and oh my god, was it worth it! I'm really actually wishing I'd written this up the next day, because I've kind of lost some of the details since the haze of fangirlism has worn off. But honestly, all the ladies there were amazing, and their answers to questions were both funny and insightful. This was my first author event, so I was super, super nervous - not to mention I'm incredibly (almost painfully) shy, so I didn't socialize as much as I wanted to originally. I still had an amazing time, though, and came away with some amazing books that are now pretty much priceless to me. I took a few pictures while I was there (and so did the boyfriend). They're a little blurry, and by no means top quality, but I did at least want to share a couple!
From left to right, Ally Condie (author of Matched); Andrea Cremer (author of Nightshade); Rosemary (Bookstore employee); Kristin Miller (author of The Eternal Ones); Questionnaire moderators (Sorry, I can't for the life of me remember their names!); Beth Revis (author of Across the Universe); and Brenna Yovanoff (author of The Replacement).
So let me start off by saying Ally Condie is a hot mama. I'm totally jealous of her runner's body. All the authors were incredibly nice, but Ally just struck me as really sweet. Andrea Cremer is a total vivacious red head - I want her hair! She was witty and adorable and I honestly think hearing her talk made me like Nightshade even more! Kristin Miller was one of the main talkers of the bunch, and she definitely knows her stuff. I actually really, really want to read her Kiki Strike books now - I've never picked one up.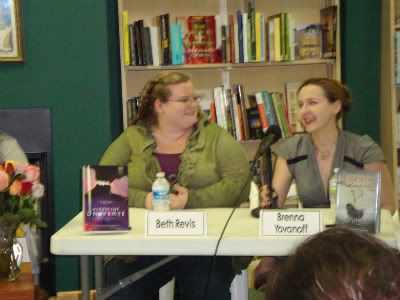 This is, honestly, the least blurry picture I managed to get of Beth Revis during the questionnaire! I think she must move constantly, lol! But really, she seemed so cool, and so bouncy (especially when talking about explosions), and I just loved her. I would have loved to have been one of her students. And Brenna Yovanoff at the end was so sweet and soft-spoken. I also hearted her armwarmers hardcore. I love me some unique accessories. ;D
Follow the jump for more!
The line was huge! But it moved surprisingly fast. These girls know how to sign. Andrea looks totally adorbs in this one! Getting my copies of Matched signed first.
Getting Nightshade copies signed, and my ARC of The Eternal Ones. Also apparently attempting to scratch my face, and juggle books and poster at the same time.
Getting copies of Across the Universe and The Replacement signed. I had to resist the urge to fangirl over Beth Revis.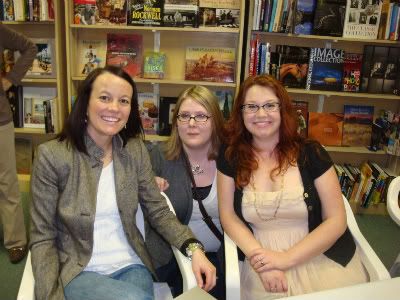 Everyone was so nice about getting pictures taken! Excuse my awkward face, of course. I only regret that I completely blanked and did not get my picture taken with Kristin Miller. :(
Awkward face part 2 - I think it's a curse! Beth was so nice, and I really wanted to steal Brenna's dress. It was so cute close up!
And just because, I'd like to thank my amazing, wonderful, sweet boyfriend for driving me all the way up there after working a long day, patiently letting me wander around the store, sitting through interviews about people he had no clue about, holding my books for me all night, and generally just keeping me from falling all over myself. You're the best!
So all in all, one of the best Friday nights ever! I had so much fun just listening to all the authors talk about their books and themselves. I got a bunch of books, and some awesome swag, and I can't wait to go to another book signing. I think I'm addicted!