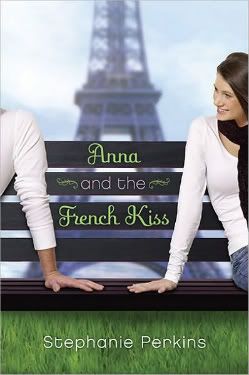 Title:
Anna and the French Kiss
Author: Stephanie Perkins
Publisher:
Dutton
Category:
Young Adult
Page Count:
372
Release Date:
December 2, 2011
Series:
n/a
Source:
Library
Challenge:
none
Quick Rating:
5/5
Goodreads
|
Amazon
|
B&N
Anna was looking forward to her senior year in Atlanta, where she has a great job, a loyal best friend, and a crush on the verge of becoming more. So she's less than thrilled about being shipped off to boarding school in Paris - until she meets Etienne St. Clair. Smart, charming, beautiful, Etinne has it all…including a serious girlfriend.

But in the City of Light, wishes have a way of coming true. Will a year of romantic near-misses end with their long-awaited French kiss? Stephanie Perkins keeps the romantic tension cracking and the attraction high in a debut guaranteed to make toes tingle and hearts melt.
K, so lemme get this out of the way: SQUEEEEEEOMMMGAAAAAHHH!
Guys, I
do not
like contemporary fiction. I just don't. It's a genre I avoid a lot of the time. And
Anna
was so hyped, it's been sitting in the bottom of my library bag for a month because I was terrified I was going to hate it.
I was so wrong, and I'm kicking myself that I hadn't read this earlier. In fact, I'm probably going to buy my own copy, and then force everyone I know to read it. It's just that good. I even
cried
(well, maybe more like a sniffle, but still). Happy tears of joy. I've never done that before. I'm usually bawling my eyes out because someone died and ending is devastatingly tragic - not because it's happy!
This cast of characters is one of the best I've seen in a young adult novel recently. I liked everyone, and I'd totally want to hang out in their group. In Paris. I wish I'd been sent to boarding school in a foreign country. *sigh*
Anna, the main character, is quirky and sweet, strong and compassionate. She tries desperately to do what's right and keep her feelings to herself, but somehow it just never seems to work out quite right. I loved her little tidbits of film descriptions, and appreciated them fully, because I am a total TCM black and white movie junkie. She also gets props for having a Hello Kitty umbrella, because I have a Chococat umbrella. We totally match.
And St. Clair? Cue gushing. I pictured him as Heath Ledge ala
10 Things I Hate About You
the whole time. So sweet, but snarky and hilarious. I understood Anna's confusion and confliction, but I can see what St. Clair was going through as well. And his heights phobia was adorable.
As for the rest of the group, Rashmi is amazing. She wants an Egyptology degree, and that's my secret dream job. Meredith collects crazy jewelry and keeps them in teacups. Josh is a quirky artist. Where were these people when I was in high school?!
But, really, on a less gushy note, I felt
Anna
was very real. They all sounded like teenagers without being cheesy, or sounding like an adult's impression of how teenagers talk. The banter between them all, especially Anna and St. Clair had me snorting and giggling right along with them. I loved that they cursed and they drank, because, you know, that's what a lot of teens do. My heart was absolutely pounding during certain scenes (sleepovers and birthday celebrations anyone?). The sweet, clumsy awkwardness of the romance was absolutely endearing and believable. I was totally nervous right along with Anna, because I still remember that feeling of the high school crush. I was in awe of the beautiful buildings in Paris, and my stomach was in knots every time St. Clair tried to climb stairs. There was not one flaw with this book that I can find. Others surely can, but Stephanie Perkins has definitely mad me a raving mad fangirl.
And I have to add, did anyone else get the impression that Anna's dad was a thinly-veiled, funny little stab at Nicholas Sparks? Because that's all I could think about every time he or one of his books were mentioned!
Please, please, please, Hollywood, make a wonderful movie out of this one day so I can swoon visually as well as mentally?

The Final Word:
I could probably gush for hours on end about this book, and I really can't even come up with a coherent review that I'm happy with. Regardless, if you haven't read this yet, do it now. Immediately. It's a refreshing, toe-curling, goosebump-inducing romance that takes place in one of the most romantic cities in the world. Paris! Boarding schools! Cute boys! What isn't to love?
Overall:

Characters:


Concept:


Cover:


Cover Thoughts:
I'm sorry, but this is the one thing I can't stand! The cover is so cheesy! And Anna doesn't even have her bleached streak, which is definitely important. And the man hand looks like an alien. It's like a facehugger, creeping along, getting ready to suck Anna's poor face, and it creeps me out. But, really, the cover just does not do this book justice at all. It was one of the main factors I put off reading it for so long. Maybe the paperback will redeem itself?
Tea:
Normally I don't do this, but this time I'm saying screw it. You're reading a book about Paris. Tea will just not do. Grab a cup of your favorite coffee, put on your beret, and get lost in the City of Light with Anna and St. Clair. Plus, you'll need the caffeine. You'll be up into the wee hours of the morning to finish this, I guarantee it.
Memorable Quote:
"Who sends their kid to boarding school? It's so Hogwarts. Only mine doesn't have cute boy wizards or magic candy or flying lessons." pg. 5
(I just had to share it - my favorite quote in the whole book!)