It's finally here! My 100 Follower Giveaway! *happy dance*
I've been planning this for a while, since I hit 100 followers a bit ago, but with everything else going on, it got pushed back further than I originally wanted.
But, whatever. It's here now, right? And I really thought I wouldn't have one of these for a while yet! I want to thank all of you for following my little tiny blog, and making this whole thing just seem amazingly fun. But that's enough speech, let's get to the fun prizes!
The "Grand Prize" includes: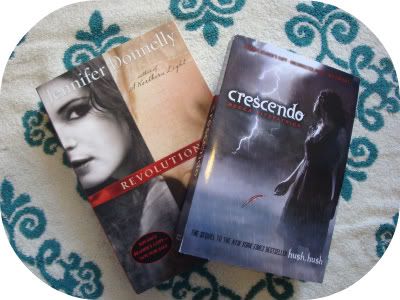 The "2010 Top Picks" prize includes top-selling titles from 2010:
The "Girls That Don't Fit In" prize includes titles featuring girls that just...don't really fit it:
The "Edgy Girls" prize features strong heroines and intense situations:
The "2011 Releases" prize includes new titles for 2011:
Edgy, Dark, & Possibly Violent
The "Edgy, Dark, & Possibly Violent" prize includes a few darker titles:
Oh, and yeah...these guys:
Every winner will get a random monster with their prize. ;D Just because they're really freakin' adorable.
There are only a few rules and regulations:
U. S. entries only please! I'd love to do international, but I can't afford the shipping right now.
You must be 13 years of age or older to enter.
Specifically for this giveaway, you must be a follower of the blog. There is a place for your Google Friend Connect name on the entry form.
No emails will be sold or given away to third parties. I will always respect your privacy.
Winners will be chosen using random.org
The giveaway will run from April 1st, 2011, to midnight (EST) April 30th, 2011.
There are no extra entries this time around. Keeping it straightforward and simple.
Reblogging or tweeting is not required, but it is definitely appreciated.
Contest Over! Click HERE to see the winners!
One winner will be chosen for each prize pack. In the provided box, please list prize packs in the order of preference. Each winner will receive the top pack off their list until all prizes are gone.