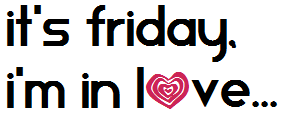 This week, I'm participating in three different Friday memes!
Crazy for Books
hosts the Book Blogger Hop.
Parajunkee's View
hots Folly Friday. And a new Friday question to the block, TGIF at
Greads
! These are all wonderful opportunities for bloggers to get to know each other better.
Today's question from the Hop...
"Since today is April Fool's Day in the USA, what is the best prank you have ever played on someone, OR that someone has played on you?
"
Is it weird that I can't think of a single thing...? I scare really easily, so my boyfriend is constantly playing little tiny tricks on me, but I actually can't think of any huge prank. Sorry, lol!
Today's question from Follow Friday...
"What is the book that you really don't want to admit to loving?
"
Honestly, it's probably still Twilight. Online it's not so hard to admit, since there are a bunch of fans out there, but in real life? Ugh. I used to keep the set in the bedroom, where only I could see it. But recently, I've actually reorganized by shelves, and it's out in the living room loud and proud. I still squirm a little whenever friends cover over and just hope they don't notice it, though.
Today's question from TGIF...
"Characters We Love: Which male and/or female character have your found yourself connected to the most?"
Wow, what a loaded question. I think I honestly get more attached to the story and world than feel connected to a specific character. But if I had to choose the most, it would probably be Harry from the Harry Potter series. I grew up with the books, and I've grown up with the actors in the movies (I'm the same age as Dan!). I can't imagine being more connected to anything literary than that.
Though Katniss from The Hunger Games or Clary from The Mortal Instruments could probably be close seconds.