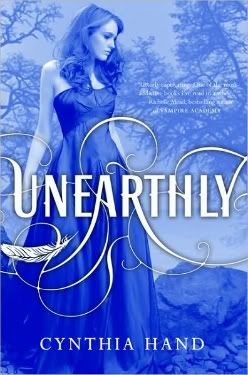 Title:
Unearthly
Author:
Cynthia Hand
Publisher:
HarperCollins Publishers
Category:
Young Adult
Page Count:
329
Release Date:
January 2011
Source:
Bought
Challenge:
2011 DAC
Quick Rating:
5/5
In the beginning, there's a boy standing in the trees…
Clara Gardner has recently learned that she's part angel. Having angel blood run through her veins not only makes her smarter, stronger, and faster than humans (a word, she realizes, that no longer applies to her), but it means she has a purpose, something she was put on this earth to do. Figuring out what that is, though, isn't easy.

Her visions of a raging forest fire and an alluring stranger lead her to a new school in a new town. When she meets Christian, who turns out to be the boy of her dreams (literally), everything seems to fall into place - and out of place at the same time. Because there's another guy, Tucker, who appeals to Clara's less angelic side.

As Clara tries to find her way in a world she no longer understands, she encounters unseen dangers and choices she never thought she'd have to make - between honesty and deceit, love and duty, good and evil. When the fire from her vision finally ignites, will Clara be ready to face her destiny?

UNEARTHLY is a moving tale of love and fate, and the struggle between following the rules and following your heart.
Another
angel book? Yeah. That's exactly what I thought at first. I was initially drawn in by that oh-so-pretty cover (internet pictures really don't do it justice), but it became so much more than a beautiful face. It's been hard trying to collect my thoughts for a review, because all I want to do is just gush!
First, like I said, that cover just blew me away when I finally saw it in real life. Design counts a lot with me, and
Unearthly
hit the nail on the head. Not only is the jacket lovely, but the hard cover underneath is beautiful, and the graphic at the beginning of each chapter is so pretty! I have a total weakness for swirls.
Beyond the superficial though, a lot of things really impressed me about
Unearthly
. Number one being the strong presence of secondary characters, specially her mom. How many times in YA fiction is the parental figure almost totally absent? I was almost as intrigued by Clara's mom as Clara herself. Clara's obvious adoration of her mother is a relief from the typical resentful teen. Not that Clara doesn't have her moments, but you can just tell what a loving family she has. I cannot wait to find out more about the mystery of her mother's purpose, as well as her brother, Jeffrey's.
Follow the jump for more!
And Clara herself is just amazing! I'd totally be BFFs with her. I liked the change of pace where she already knows about being an angel-blood, and it isn't some huge, corny plot device mid-book. I also love how absolutely normal she seems. She takes being part angel in stride, and it really shine through how just absolutely normal she is deep down. She can laugh at herself, and I respect that. Seriously though, any YA heroine that hangs up on the boy she's mad with instead of moping and moaning for days gets my vote. Oh, and serious points for using the word 'adorkable'.
I'd also like to say I'd love to trade places with Clara any day. Her house in stunning Wyoming sounds amazing, and so does her school. T-shirt day? Badges for surviving the plague? I'm packing my bags right now.
Cynthia Hand also went out of her way to create some really awesome mythology. I'm a total sucker for religious mythology. Math and computers being a language, and thus perfectly untreatable for angel-bloods, was a nice touch. Not to mention being able to communicate with animals! Angela's theory that all things supernatural, such as vampires and werewolves, could be angels was really awesome. However, the coolest bit to me was the idea that Heaven and Hell are dimensions simply laid over our own conscious dimension. The landscape is the same, but one is beautiful, and the other a wasteland. And the Black Wings? Who else is excited to see more from them in future books?
And the boys. How could I not mention the boys? I am very firmly Team Tucker as of right now, but then I'm biased towards tan, muscley, gentlemanly, manly kinda men. I'd love to go on and on about Christian and Tucker, but really, it'll be so much more fun if you read it yourself. But I am definitely stealing the word 'monthiversary'. How cute is that?
My only problem with the book was a small one, and an old one. It's that whole name brand issue. To me, it seriously dates a novel, and it just kind of irks me. At least it was really spaced out in
Unearthly
- I didn't feel like I was being bombarded with constant mentions of celebrities and popular products. However, I will look the other way for mentions of Hello Kitty journals and Harry Potter references.
So where do we go from here? The ending left me frantically scrambling for the next page, and I cannot wait for this series to continue. Cynthia Hand has laid some stellar groundwork, and I think things are definitely about to get epic.
The Final Word:
Hands down, the best YA fiction angel book out there right now. The female lead is strong, funny, charismatic, and knows what she wants. She isn't wishy-washy or weepy, and I'd seriously want her as a friend if she really existed. If you read one angel book out of the hoards of them out there, make
Unearthly
the one.
Overall:

Cover:

Concept:

Characters:

Tea:
For the sake of being totally appropriate name-wise, I'd pick Snow Peak Downy Tips white tea from my absolute favorite place,
Teavana
.
And because this book made me laugh and go 'awww' so many times, here are just a couple of my favorite quotes.
I can't help it. I turn to Mom.

"Are you a member of the Weasley family?" I ask. (pg. 105)
"Or you could get rid of him altogether. Throw him in the Tower of London. Have him drawn and quartered. Maybe the rack. Or a red-hot enema," says Mr. Erikson, laughing. You have to admire a teacher who's suggest death via red-hot enema. (pg. 181)
I hold out my hand for the phone. Surprised, she gives it to me. I put it to my ear.

"Clara?" Christian says hopefully.

"Take the hint," I say into the phone, then hang up. (pg. 252)
"I'm looking at you. Why are you always trying to hide how pretty you are?" (pg. 307)
He loves me. Inside his head, his every thought and reaction was born of love, love inside and out, crazy, irrational (and sure, a bit lustful) love. He loves me, and that's also what terrified him when he saw me all lit up like a Christmas tree. He doesn't know what I am, but he loves me. (pg. 340)