"Waiting On Wednesday" is a weekly event, hosted by Jill at
Breaking the Spine
, that spotlights upcoming releases that we're eagerly anticipating.
Want to participate?
Head on over to Breaking the Spine.
Grab the logo, or make your own!
Post your WoW entry on your blog.
Sign the Mr. Linky.
Visit all the other linked blogs, and watch your TBR pile grow to ginormous proportions!
--------------------------------------------------------------------------------------------------------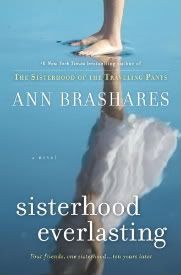 by Ann Brashares
(June 14, 2011 -- Random House)
From #1 New York Times bestselling author Ann Brashares comes the welcome return of the characters whose friendship became a touchstone for a generation. Now Tibby, Lena, Carmen, and Bridget have grown up, starting their lives on their own. And though the jeans they shared are long gone, the sisterhood is everlasting.

Despite having jobs and men that they love, each knows that something is missing: the closeness that once sustained them. Carmen is a successful actress in New York, engaged to be married, but misses her friends. Lena finds solace in her art, teaching in Rhode Island, but still thinks of Kostos and the road she didn't take. Bridget lives with her longtime boyfriend, Eric, in San Francisco, and though a part of her wants to settle down, a bigger part can't seem to shed her old restlessness.

Then Tibby reaches out to bridge the distance, sending the others plane tickets for a reunion that they all breathlessly await. And indeed, it will change their lives forever—but in ways that none of them could ever have expected.

As moving and life-changing as an encounter with long-lost best friends, Sisterhood Everlasting is a powerful story about growing up, losing your way, and finding the courage to create a new one. (from Goodreads)
How come I didn't know about this ages ago?! I found out about this one maybe a week or so ago, and I swear, my jaw hit the floor. Another Sisterhood of the Traveling Pants book? With the twist of them all being adults? My inner tween and young woman can finally party together comfortably.
Seriously though, I love these books. The stories are all about friendships and hardships, and that's what made me connect to them so well when I was a just a girl. I'll even admit to loving the movies as one of my guilty pleasures. ;D I cannot get enough of these girls, and I can't wait to reunite with them again in June.
What are you waiting on this Wednesday?